Estructura de mercado y salarios: evidencia empírica para Ecuador usando microdatos
Palabras clave:
Estructura de mercado, Salarios, Capital humano, Ecuador
Resumen
Uno de los determinantes del nivel de ingresos de las empresas es el grado de inuenciaque tienen en el mercado. El poder de mercado de las empresas inuye de forma directaen los salarios. El objetivo de esta investigación es examinar el efecto entre la estructurade mercado de las empresas y salarios para Ecuador utilizando microdatos, utilizando lateoría de estructura de mercado y salarios de Krugman (1998). Utilizamos datos de cortetransversal publicados por el Instituto Nacional de Estadísticas y Censos (2010). La informaciónestadística muestra que no existen empresas que tengan un poder monopolísticoen el mercado, más bien la mayor parte de las empresas tienen una baja inuencia. Losresultados econométricos ofrecen soporte empírico robusto a favor de la teoría estructurade mercado y salarios, evidenciando una relación positiva entre las dos variables para elcaso de Ecuador. Una implicación de política pública derivada de esta investigación es quela intervención estatal debe estar orientada a promover a mantener la competencia y diversicar la actividad económica ofrecería mayor capacidad de inuencia a las empresas yventajas salariales a los trabajadores.
Citas
Allen (1968). Market Concentration and Wage Increases:
US Manufacturing, 1947–1964. ILR Review,
(3), 353-366. Alderete & Gutiérrez (2012). ICT and
productivity in service industries in Colombia. Lecturas
de Economía, (77), 163-188.
Albarracín, Erazo & Palacios (2014). Inuencia de las
tecnologías de la información y comunicación en el
rendimiento de las micro, pequeñas y medianas empresas
colombianas. Estudios Gerenciales, 30(133), 355-
Amable, Ledezma & Robin (2016). Product market regulation,
innovation, and productivity. Research Policy,
(10), 2087-2104.
Bryan, R. (1985). Monopoly in Marxist method. Capital
Class, 9(2), 72-92.
Bester & Petrakis. (2003). Wages and productivity
growth in a competitive industry. Journal of Economic
Theory, 109(1), 52-69.
Bester & Petrakis (2004). Wages and productivity
growth in a dynamic monopoly. International Journal
of Industrial Organization, 22(1), 83-100. Bureš &
Stropková (2014). Labour productivity and possibilities
of its extension by knowledge management aspects.
Procedia-Social and Behavioral Sciences, 109, 1088-
Brown Domínguez & Mertens (2007). La importancia
del capital social en la mejora de la productividad: el
caso de la industria manufacturera mexicana. Revista
mexicana de sociología, 69(2), 277-308.
Bel, González & Picazo (2015). Does market concentration
aect prices in the urban water industry? Environment
and Planning C: Government and Policy, 33(6),
-1565.
Barseghyan & DiCecio (2016). Externalities, endogenous
productivity, and poverty traps. European
Economic Review, 85, 112-126. Coulson, D. C. (1986).
Commentary: A First Amendment Perspective on
Antitrust Law and Newspaper Chain Ownership,
Monopoly. Newspaper Research Journal, 7(4), 35-42.
Contreras & Gonzalez (2013). Retorno do investimento
em formação da pequena empresa em Cartagena. Estudios
Gerenciales, 29(128), 284-292.
Carvalho & Avellar (2016). Innovation and productivity:
empirical evidence for Brazilian industrial enterprises.
Revista de Administração.
Cota & Pereyra (2014). Trabajo calicado, especialización
y productividad laboral urbana en la frontera
norte de México: un análisis de panel de efectos mixtos.
Investigación económica, 73(287), 89-119.
Dai & Cheng (2016). Market distortions and aggregate
productivity: Evidence from Chinese energy enterprises.
Energy Policy, 95, 304-313.
Gannage & Gannage (1980). ES Varga and the Theory of
State Monopoly Capitalism. Review of Radical Political
Economics, 12(3), 36-49.
Gander (2003). Technology adoption and labor training
under uncertainty. Economics of Education Review,
(3), 285-289.
Giziene & Simanaviciene. (2015). The Impact of Human
Capital on Labour Market: Lithuanian Case. Procedia-
Social and Behavioral Sciences, 191, 2437-2442.
Goel (2016). Oshoring-Eects on Technology and Implications
for the Labor Market.
Goerke, L. (2012). The optimal structure of commodity
taxation in a monopoly with tax avoidance or evasion.
Public Finance Review, 40(4), 519-536.
Instituto Nacional de Estadísticas y Censos (2016).
Ecuador. Disponible en línea.
Jenkins, R. (1989). Transnational corporations, competition
and monopoly. Review of Radical Political Economics,
(4), 12-32.
Krugman, Wells & Olney (2008). Microecnomía, 373-
Krugman (1998). La era de las expectativas limitadas.
Koirala & Koshal (2000). Productivity and technology in
Nepal: An analysis of foreign and domestic rms. Journal
of Asian Economics, 10(4), 605-618.
Liu, Xu, Shen & Wang (2016). Market expansion, state
intervention and wage dierentials between economic
sectors in urban China: A multilevel analysis. Urban
Studies.
Maciulyt˙e-Šniukien˙e & Gaile-Sarkane (2014). Impact of
information and telecommunication technologies development
on labour productivity. Procedia-Social and Behavioral
Sciences, 110, 1271-1282.
Padilla & Villarreal (2017). Structural change and productivity
growth in Mexico, 1990–2014. Structural
Change and Economic Dynamics, 41, 53-63.
Perales (2013). Occupational sex-segregation, specialized
human capital and wages: evidence from Britain.
Work, employment and society, 27(4), 600-620.
Petersen, V. G. (1984). The Challenge of New Technology:
Impact on the Danish Broadcasting Monopoly. International
Political Science Review, 5(2), 209-224.
Priemus & Louw (2003). Changes in Dutch land policy:
from monopoly towards competition in the building
market. Environment and Planning B: Planning and
Design, 30(3), 369-378.
Polemis & Stengos (2015). Does market structure affect
labour productivity and wages? Evidence from a
smooth coecient semiparametric panel model. Economics
Letters, 137, 182-186.
Semmler (1982). Theoreis of competion and monopoly.
Capital Class, 6(3), 91-116.
Srivastava&Mathur (2013). Relative Prices, Trade, Technology
and Wage Inequality: Evidence from India. Foreign
Trade Review, 48(3), 359-381.
Tse (2000). Monopoly, human capital accumulation
and development. Journal of Development Economics,
(1), 137-174.
Wooldrige (2002). Econometric analysis of cross section
and panel data. 5-7.
Yaniv, G. (1996). Tax evasion and monopoly output decisions:
Note. Public Finance Quarterly, 24(4), 501-505.
Zhang, Sun,Wu & Deng (2016). Understanding rural restructuring
in China: The impact of changes in labor and
capital productivity on domestic agricultural production
and trade. Journal of Rural Studies, 47, 552-562.
Wen (2012). Industry-Level Supply-Side Market Concentration
and the Price of Military Conict. Conict
Management and Peace Science, 29(1), 79-92.
Wright & Bastos (2012). Exchange rates and wages in
unionized labor markets. ILR Review, 65(4), 975-999.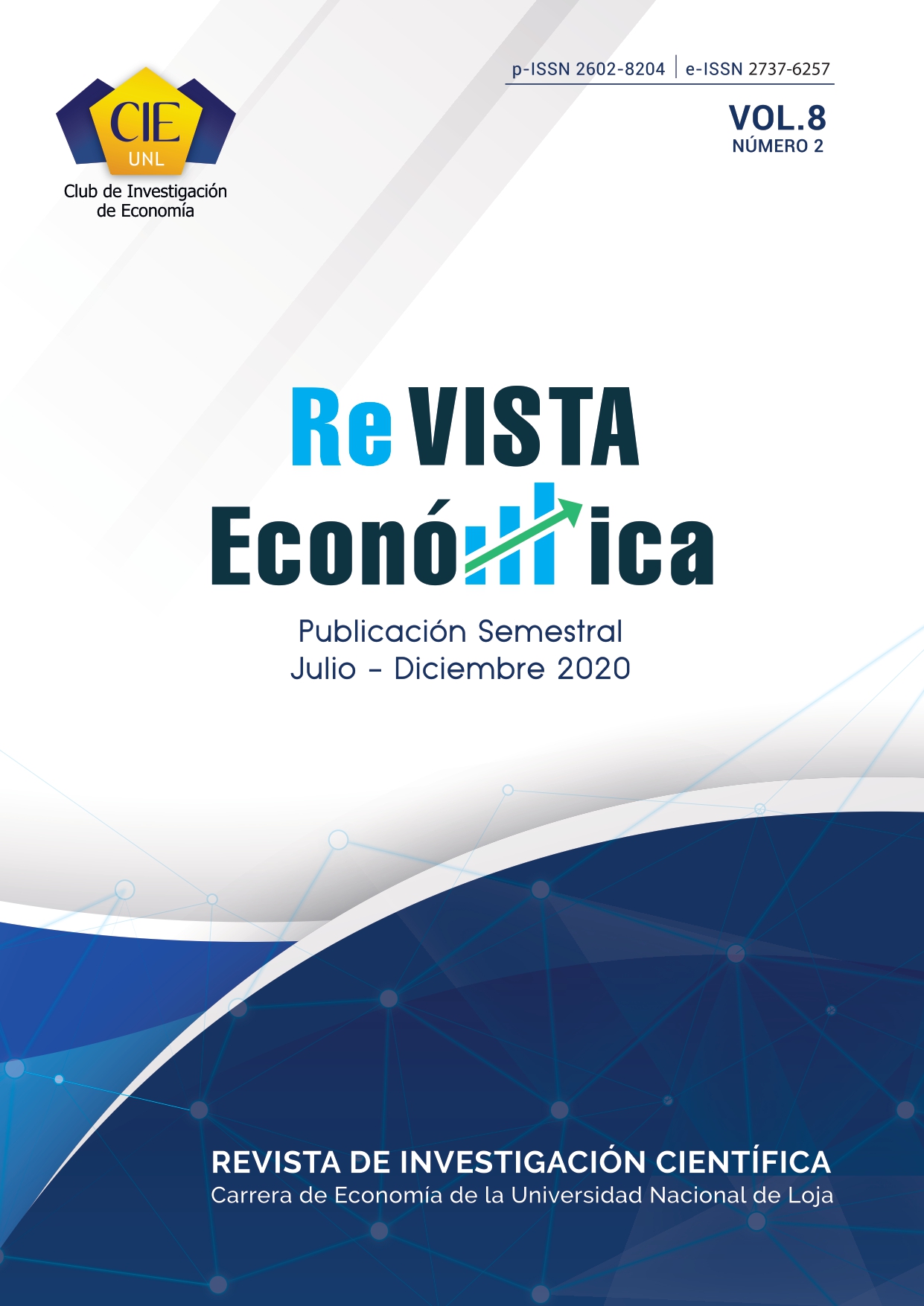 Archivos adicionales
Cómo citar
Alvarado, R., Ponce, P., Minga, L., Luna, T., & Flores, J. (2021). Estructura de mercado y salarios: evidencia empírica para Ecuador usando microdatos. Revista Económica, 8(2), 60–66. Recuperado a partir de https://revistas.unl.edu.ec/index.php/economica/article/view/910
Sección
ARTÍCULOS DE INVESTIGACIÓN
Licencia
Esta obra está bajo una licencia internacional Creative Commons Atribución-NoComercial-SinDerivadas 4.0.
Esta obra está sujeta a la licencia Reconocimiento-NoComercial-SinObraDerivada 4.0 Internacional de Creative
Commons. Para ver una copia de esta licencia, visite http://creativecommons.org/licenses/by-nc-nd/4.0/.