Efecto del emprendimiento y urbanización en el desempleo: evidencia empírica para 58 países, utilizando técnicas de datos de panel
Palabras clave:
Emprendimiento, Urbanización, Desempleo
Resumen
El desempleo se constituye en un fenómeno tanto económico como social. Una economía con elevadas tasas de desempleo no está utilizando eficientemente sus recursos. Es por ello que esta investigación tiene como objetivo evaluar el efecto del emprendimiento y la urbanización en el desempleo para 58 países, durante el período 2002-2017 mediante técnica. En este documento se utiliza técnicas de datos de panel como la prueba de Hausman (1978) y el modelo GLS. Los resultados son los siguientes: primero, desde el punto de vista del emprendimiento tiene un efecto negativo a nivel Global, HIC y MLIC, y es estadísticamente no significativo con respecto al desempleo. Segundo, la urbanización tiene un efecto positivo y significativo tanto a nivel Global, HIC y MHIC. Dentro de las posibles implicaciones de política de política se recomienda futuras investigaciones a tratar sobre el tema debido a los resultados no son significativos. Por otra parte, es necesario crear políticas adecuadas por parte de los gobiernos que permitan la inserción en el mercado laboral de  la población rural en las zonas urbanas y de esta forma contribuir al mejoramiento de las condiciones de vida de las personas desplazadas por  el proceso de urbanización. Finalmente, la investigación proporciona evidencia empírica importante, debido a que relaciona variables que explican el comportamiento del desempleo.
Citas
Alvarado, R., Peñarreta, M., Armas, R., & Alvarado, R. (2017). Access to financing and regional entrepreneurship in Ecuador: an approach using spatial methods. International Journal of Entrepreneurship, 21(3), 1-9.
Ando, M. & Kimura, F. (2005). "The Formation of International Production and Distribution Networks in East Asia". In: International Trade in East Asia, NBER-East Asia Seminar on Economics, Vol. 14. Ed. by Takatoshi Ito and Andrew K. Rose. University of Chicago Press.
Ando, M. & Kimura, F. (2014). "Evolution of Machinery Production Networks: Linkage of North America with East Asia". In: Asian Economic Papers 13.3, pp. 121–160.
Antonopoulos, R., & Kim, K. (2010). Responding to the Crisis, Promoting Gender Equality: Stimulus Packages, Public Job Creation and Lessons Learned from South Africa's Expanded Public Works Programs. In The World Economy in Crisis—The Return of Keynesianism (S. Dullein, E. Hein, A. Truger, A., and T. van Treeck, Eds.). Series of the Research Network Macroeconomics and Macroeconomic Policies, vol.13. Marburg: Metropolis.
Antonopoulos, R.; Kim, K.; Masterson, T.; & Zacharias, A. (2014). Investing in Care: A strategy for effective and equitable job creation. In Gender Perspectives and Gender Impacts of the Global Economic Crisis (R. Antonopoulos, Ed.). New York: Routledge.
Baldwin, R., E. (2012). "Global Supply Chains: Why They Emerged, Why They Matter, and Where They Are Going". CEPR Discussion Papers 9103.
Baptista, R., & Thurik, A. R. (2007). The relationship between entrepreneurship and unemployment: Is Portugal an outlier?. Technological Forecasting and Social Change, 74(1), 75-89.
Becker, S.O. & Muendler, M.A., (2008). The effect of FDI on job security. BE J. Econ. Anal. Policy 8 (1) (Article 8).
Becker, S.O., Ekholm, K., Jäckle, R. & Muendler, M.A., (2005). Location choice and employment decisions: a comparison of German and Swedish multinationals. Rev. World Econ. 141 (4), 693–731
Beynon, MJ, Jones, P. y Pickernell, D. (2019). El papel del espíritu empresarial, la innovación y la diversidad urbana en el crecimiento, el desempleo y los ingresos: evidencia a nivel estatal de los EE. UU. Y una aclaración del fsQCA. Revista de investigación de negocios, 101, 675-687.
Ciccone, A. & Hall, R.E. (1996). Productivity and the density of economic activity. Am. Econ. Rev. 86, 54–70.
Colombelli, A., Krafft, J., & Vivarelli, M. (2016). To be born is not enough: The key role of innovative start-ups. Small Business Economics, 47(2), 277–291.
Davidson, C., Martin, L., Matusz, S., (1999). Trade and search generated unemployment. Journal of International Economics 48 (2), 271–299.
De Henau, J., S. Himmelweit & D. Perrons. (2017). Investing in the Care Economy: Simulating Employment Effects by Gender in Countries in Emerging Economies. Brussels: International Trade Unions Confederation (ITUC).
Debaere, P., Lee, H., & Lee, J., (2010). It matters where you go: outward foreign direct investment and multinational employment growth at home. J. Dev. Econ. 91 (2), 301–309.
Desai, M.A., Foley, C.F., & Hines Jr., J.R., (2009). Domestic effects of the foreign activities of US multinationals. Am. Econ. J. Econ. Pol. 1 (1), 181–203.
Driffield, N., Pereira, V., & Temouri, Y., (2017). Does offshore outsourcing impact home employment? Evidence from service multinationals. J. Bus. Res.
Eichengreen, B., & Gupta, P. (2013) The Two Waves of Service-Sector Growth. Oxford Economic Papers 65 (1): 96–123.
Eren, O., Onda, M., & Unel, B. (2019). Effects of FDI on entrepreneurship: Evidence from Right-to-Work and non-Right-to-Work states. Labour Economics, 58, 98-109.
Essletzbichler, J. (2004). The geography of job creation and job destruction in the U.S. manufacturing sector 1967-1997. Ann.Assoc.Am.Geogr.94, 602–619.
Faberman, J. (2005). What's in a City: Understanding the Micro-level Employer Dynamics Underlying Urban Growth. U.S. Bureau of Labor Statistics Working Paper 386.
Faggio, G., & Silva, O. (2014). Self-employment and entrepreneurship in urban and rural labour markets. Journal of Urban Economics, 84, 67-85.
Failla, V., Melillo, F., & Reichstein, T. (2017). Entrepreneurship and employment stability—Job matching, labour market value, and personal commitment. Journal of business venturing, 32(2), 162-177.
Faria, J. R., Cuestas, J. C., y Gil-Alana, L. A. (2009). Unemployment and entrepreneurship: A cyclical relation?. Economics Letters, 105(3), 318-320.
Faria, J. R., Cuestas, J. C., y Mourelle, E. (2010). Entrepreneurship and unemployment: a nonlinear bidirectional causality?. Economic Modelling, 27(5), 1282-1291.
Federico, S., & Minerva, G.A., (2008). Outward FDI and local employment growth in Italy. Rev. World Econ. 144 (2), 295–324.
Feenstra, R. C., Ma, H., & Xu, Y. (2019). Us exports and employment. Journal of International Economics.
Feenstra, R., C. & Sasahara, A., (2018). "The 'China Shock', Exports and U.S. Employment: A Global Input-Output Analysis". In: Review of International Economics 26.5, pp. 1053–1083.
Feenstra, R., C. & Sasahara, A., (2019). "The 'China Shock' in Trade: Consequences for ASEAN and East Asia". In: World Trade Evolution: Growth, Productivity and Employment. Ed. by Lili Yan Ing and Miaojie Yu. Routledge.
Feenstra, R., C. (1998). "Integration of Trade and Disintegration of Production in the Global Economy". In: Journal of Economic Perspectives 12.4, pp. 31–50.
Godoy-Jaramillo, J. (2018). Urbanización e industrialización en Ecuador. ReVista Económica 4(1), 46-57.
Godoy-Jaramillo, J., & Vaca, P. (2019). Urbanización y desigualdad de ingresos a nivel global enfoque con datos de panel. ReVista Económica 6(1), 70-81.
Granger, CW, y Terasvirta, T. (1993). Modelando relaciones económicas no lineales. Catálogo OUP.
Hausman, J. (1978). Specification tests in econometrics. Econometrica 1251–1271.
Head, K. & Ries, J., (2004). Exporting and FDI as alternative strategies. Oxf. Rev. Econ. Policy 20 (3), 409–423.
Helpman, E., Itskhoki, O., (2010). Labor market rigidities, trade and unemployment. Review of Economic Studies 77 (3), 1100–1137.
Hijzen, A., Inui, T. & Todo, Y., (2007). The effects of multinational production on domestic performance: evidence from Japanese firms. In: RIETI Discussion Paper Series, No. 07-E-006. Research Institute of Economy, Trade and Industry, Tokyo.
Hijzen, A., Jean, S., & Mayer, T., (2011). The effects at home of initiating production abroad: evidence from matched French firms. Rev. World Econ. 147 (3), 457–483.
Hoon, H.T., (2001). Adjustment of wages and equilibrium unemployment in a Ricardian global economy. Journal of International Economics 54 (1), 193–209
Ilkkaracan, I. & K. Kim. (2018). "The Employment Generation Impact of Meeting SDG Targets in Early Childhood Care, Education, Health and Long-Term Care in 45 Countries." ILO Discussion Paper. International Labour Organization (ILO), Geneva.
Ilkkaracan, I., Kim, K., & Kaya, T. (2015) The Impact of Public Investment in Social Care Services on Employment, Gender Equality and Poverty: The Turkish case. Research Report. Istanbul and Ankara: Istanbul Technical University Women's Studies Center and the Levy Economics Institute at Bard College.
Jiménez, J., & Alvarado, R. (2018). Efecto de la productividad laboral y del capital humano en la pobreza regional en Ecuador. Investigaciones Regionales= Journal of Regional Research, (40), 141-165.
Kee, H.L. & Hoon, H.T., (2005). Trade, capital accumulation and structural unemployment: an empirical study of the Singapore economy. Journal of Development Economics 77 (1), 125–152.
Kim, K., İlkkaracan, İ., & Kaya, T. (2019). Public investment in care services in Turkey: Promoting employment & gender inclusive growth. Journal of Policy Modeling.
Kimura, F. & Obashi, A. (2016). "Production Networks in East Asia: What We Know So Far". In: Production Networks and Enterprises in East Asia. Springer, Tokyo, pp. 33–64.
Kokko, A., (2006). The home country effects of FDI in developed economies. In: EIJS Working Paper No. 225. European Institute of Japanese Studies, Stockholm.
Lipsey, R. & Weiss, M., (1981). Foreign production and exports in manufacturing industries. Rev. Econ. Stat. 63 (4), 488–494.
Los, Bart, Marcel P. Timmer, & Gaaitzen J. de Vries (2015). "How Global are Global Value Chains? A New Approach to Measure International Fragmentation". In: Journal of Regional Science 55.1, pp. 66–92.
Luu, T.T., (2017). CSR and organizational citizenship behavior for the environment in hotel industry: the moderating roles of corporate entrepreneurship and employee attachment style. Int. J. Contemp. Hosp. Manage. 29 (11), 2867–2900.
Malchow-Møller, N., Schjerning, B., & Sørensen, A. (2011). Entrepreneurship, job creation and wage growth. Small Business Economics, 36(1), 15–32.
Martínez, A. M. R., & Milone, M. (2016). El emprendimiento en España: Intención emprendedora, motivaciones y obstáculos. Journal of Globalization, Competitiveness & Governability/Revista de Globalización, Competitividad y Gobernabilidad/Revista de Globalização, Competitividade e Governabilidade, 10(1), 95-109.
Mitra, D., & Ranjan, P., (2010). Offshoring and unemployment: the role of search frictions labor mobility. J. Int. Econ. 81 (2), 219–229.
Moore, M., Ranjan, P., (2005). Globalisation and skill-biased technological change: implications for unemployment and wage inequality. The Economic Journal 115 (503), 391–422.
Obashi, A. & Kimura, F (2017). "Deepening and Widening of Production Networks in ASEAN". In: Asian Economic Papers 16.1, pp. 1–27.
Rodríguez, A., Garcia, E; Ruiz, C, y Hernández, M.J. (2009): "Economía social y comportamiento emprendedor" en BRETONES, F. Comportamiento emprendedor en el ámbito universitario, Granada, Universidad de Granada: 19-64.
Romero, T., & Yangari, G. (2016). Relación entre el emprendimiento y la pobreza en Ecuador: un enfoque cantonal utilizando técnicas de econometría espacial. ReVista Económica 1(1), 114-126.
Rosenthal, S.S., Strange, W.C., (2004). Evidence on the nature and sources of agglomeration economies. In: Henderson, V., Thisse, J.-F. (Eds.), Handbook of Regional and Urban Economics, vol. 4. , Elsevier Publisher, Amsterdam, pp. 2119–2171.
Sasahara, A. (2019). Explicar el efecto de las exportaciones en el empleo: el contenido de valor agregado es importante. Revista de las economías japonesa e internacional , 52 , 1-21.
Stiglitz, J.E. (2016) An Agenda for Sustainable and Inclusive Growth for Emerging Markets. Journal of Policy Modeling, Vol.38: 693-710.
Thurik, AR, Carree, MA, Van Stel, A., y Audretsch, DB (2008). ¿El autoempleo reduce el desempleo? Journal of Business Venturing, 23 (6), 673-686.
Van Stel, A., Carree, M., & Thurik, R. (2005). The effect of entrepreneurial activity on national economic growth. Small Business Economics, 24(3), 311–321.
Warner, M., & Liu, Z. (2006). The Importance of Child Care in Economic Eevelopment: A Comparative analysis of regional economic linkage. Economic Development Quarterly 20: 97–103.
Wennekers, S., y Thurik, R. (1999). Vinculando el emprendimiento y el crecimiento económico. Economía de la pequeña empresa, 13 (1), 27-56.
Wooldridge, J.M., (2002). Econometric Analysis of Cross Section and Panel Data. MIT Press, Cambridge, MA.
Yeaple, S.R., (2003). The role of skill endowments in the structure of U.S. outward foreign direct investment. Rev. Econ. Stat. 85 (3), 726–734.
Zúñiga-Jara, S., Soza-Amigo, S., y Soria-Barreto, K. (2015). Dinámica del emprendimiento y el desempleo en la Patagonia chilena. Magallania (Punta Arenas), 43(1), 103-115.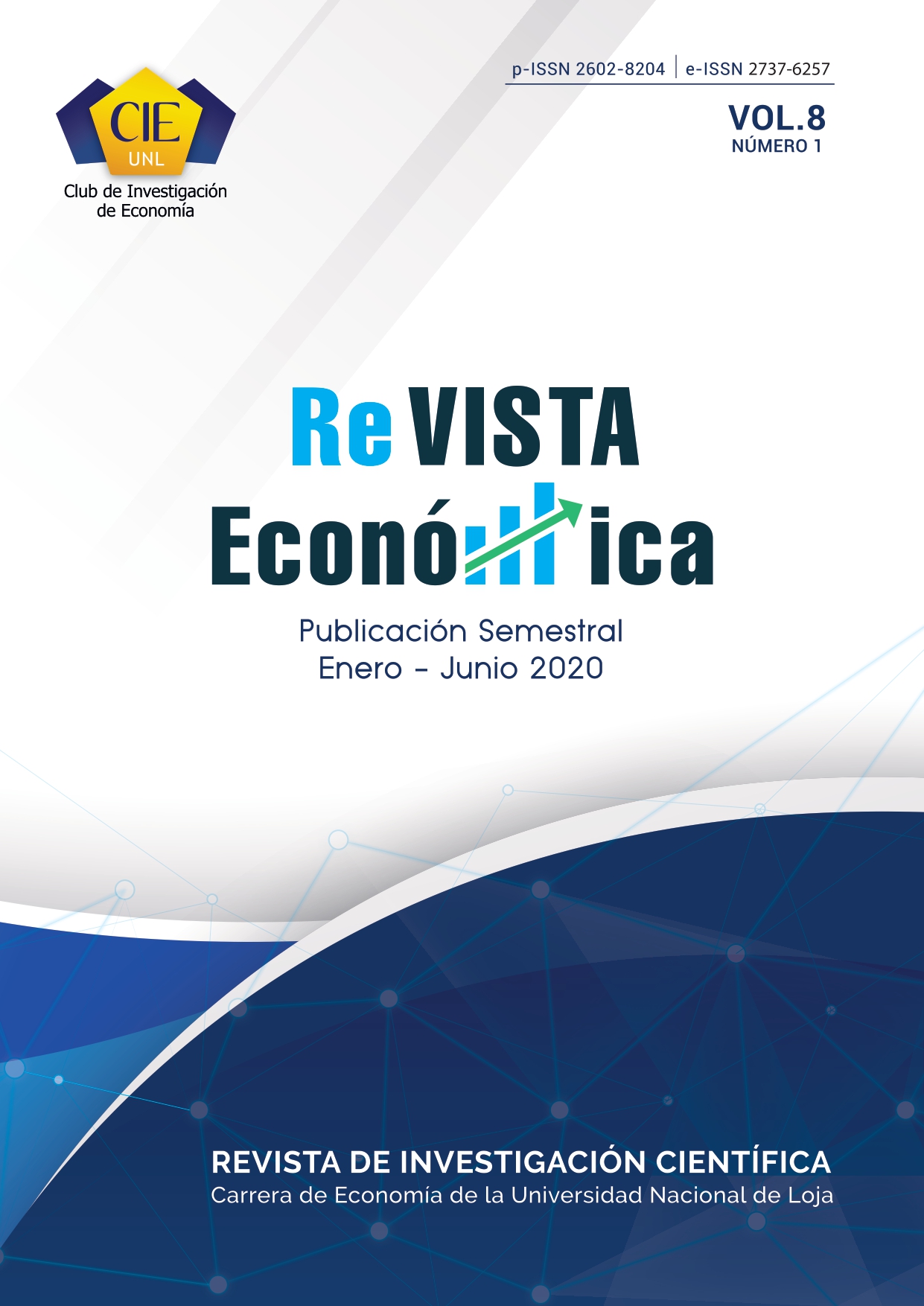 Archivos adicionales
Sección
ARTÍCULOS DE INVESTIGACIÓN
Licencia
Esta obra está bajo una licencia internacional Creative Commons Atribución-NoComercial-SinDerivadas 4.0.
Esta obra está sujeta a la licencia Reconocimiento-NoComercial-SinObraDerivada 4.0 Internacional de Creative
Commons. Para ver una copia de esta licencia, visite http://creativecommons.org/licenses/by-nc-nd/4.0/.