Students' perceptions on the benefits of authentic materials through technology in English listening comprehension
Palabras clave:
Authentic materials, English language learning, listening comprehension skills, perceptions, technology
Resumen
The use of didactic materials in teaching has been an important issue throughout the history of education. Considering the constant educational innovations, authentic materials have been effective tools for developing listening comprehension skills. Recent studies have shown that use of authentic materials through technology in teaching have highlighted the need to analyse their effects in Learning the English Language. In this sense, the present research aims to figure out the seventh-grade students' perceptions on the benefits of authentic materials through technology in the improvement of their listening comprehension skills at an elementary school in Loja city during the 2022-2023 school year. For this reason, the researcher applied an action research model approach with a questionnaire to gather quantitative and qualitative data, which were interpreted and analysed by using descriptive statistics and thematic analysis. The results showed that students agreed that authentic materials like songs, cartoons, conversations, TED talks, and documentaries helped them to acquire the language, keep them motivated, develop their interaction with their classmates, feel comfortable, and improve their listening skills. Therefore, it was concluded that seventh-grade students positively perceived the use of authentic materials provided through technology.
Citas
Abdillajonovna, S. S. (2022). The use of authentic reading materials. ResearchJet Journal of Analysis and Inventions, 3(5), 76-87. https://doi.org/10.17605/OSF.IO/JW9K8
Ahmadi, M. R. (2018). The use of technology in English language learning: A literature review. International Journal of Research in English Education, 3(2), 116-125. http://ijreeonline.com/article-1-120-en.pdf
Al Harbi, W. N. (2021). The role of social media (YouTube and Snapchat) in enhancing Saudi EFL learners' listening comprehension skills [Master's thesis, Taif University]. Institutional repository-Taif University. DOI: https://dx.doi.org/10.24093/awej/th.268
Alimbaev, M., & Shamuratov, J. (2022). The significance of technology in teaching l2. Ренессанс в парадигме новаций образования и технологий в XXI веке,1, 213-215. https://doi.org/10.47689/innovations-in-edu-vol-iss1-pp214-216
Anvarovna, K. S. (2022). The use of authentic materials in classrooms. European Journal of Innovation in Nonformal Education (EJINE), 2(2), 485-487.
Bhardwaj, P. (2019). Types of sampling in research. Journal of the Practice of Cardiovascular Sciences, 5(3), 154-156. http://inovatus.es/index.php/ejine/article/view/431
Coccia, M. (2019). What is technology and technology change? A new conception with systemic-purposeful perspective for technology analysis. Journal of Social and Administrative Sciences, 6(3), 145-169. http://www.kspjournals.org/index.php/JSAS/article/view/1957/1977
Codina Canal, M. (2020). The use of authentic materials to promote language diversity awareness in secondary education [Master's thesis,Universitat de Vic - Universitat Central de Catalunya]. Institutional repository de la UVic. http://repositori.uvic.cat/bitstream/handle/10854/6511/trealu_a2020_codina_marta_use_authentic_materials.pdf?sequence=1&isAllowed=y
Creswell, J. (2012). Educational research: Planning, conducting, and evaluating quantitative and qualitative research. Pearson Education.
Efron, S. E., & Ravid, R. (2019). Action research in education: A practical guide. Guilford Publications.
Fachraini, S., & Sartika, D. (2019). Increasing students' higher order thinking skill (hots) by using authentic materials in teaching English for EFL class. Getsempena English Education Journal, 6(2), 276-284.
Geier, C., Adams, R., Mitchell, K., & Holtz, B. (2021). Informed Consent for Online Research—Is Anybody Reading?: Assessing Comprehension and Individual Differences in Readings of Digital Consent Forms. Journal of Empirical Research on Human Research Ethics, 16(3), 154-164. https://pubmed.ncbi.nlm.nih.gov/34029168/
Gihar, R. (2022). Research Paradigms: Qualitative, Quantitative and Mixed Method. International Journal of Science and Research (IJSR), 11(10), 444-447. https://www.ijsr.net/getabstract.php?paperid=SR221010141739
Haricha, E. (2019). The role of audio authentic materials in developing EFL students' listening skill [Master's thesis, University of Biskra]. Institutional repository-University of Biskra. http://archives.univ-biskra.dz/handle/123456789/16088
Iskhokovna , I. L., & Erkinovna, T. M. (2021). The use of authentic video materials for the development of language skills of students of phylological universities. PalArch's Journal of Archaeology of Egypt/Egyptology, 18(4), 2990-2998.
Jaelani, A. (2021). Benefiting students with authentic materials in English Foreign Language Classroom. In Bogor English Student And Teacher (BEST) Conference, 3, 14-18.
Jumadullayeva, G. (2020). The role of songs to improve listening skills in teaching English. Science and Education, 1(4), 184-188. https://pkm.uika-bogor.ac.id/index.php/best/article/view/1112
Medina Martínez, T. J. (2019). Lyrics Training and the listening comprehension [Bachelor's thesis, Universidad Técnica de Ambato]. Institutional repository-Universidad Técnica de Ambato. https://repositorio.uta.edu.ec/jspui/handle/123456789/29514
Mills, G., Airasian, P., & Gay, L. (2012). Educational Research Competencies for Analysis and Applications. Pearson.
Nawaila, M. B., Kanbul, S., & Alhamroni, R. (2020). Technology and English language teaching and learning: A content analysis. Journal of Learning and Teaching in Digital Age, 5(1), 16-23. https://dergipark.org.tr/en/download/article-file/1175700
Nurkholida, E. (2018). Developing authentic material of listening on higher education based on constructive learning of Jean Piaget and Vygotsky theory. OKARA: Jurnal Bahasa Dan Sastra, 12(1), 59-74. https://doi.org/10.19105/ojbs.v12i1.1762
Owiti, T. O., Omulando, C., & Barasa, P. (2019). Teachers' conceptualization of authentic printed materials in the teaching of intensive reading in secondary schools in Bondo Sub-County, Kenya. International Journal of Education and Research, 7(2), 159-178. https://www.ijern.com/journal/2019/February-2019/13.pdf
Qomariyah, S. S., Permana, D., & Hidayatullah, H. (2021). The effect of YouTube video on students' listening comprehension performance. Jo-ELT (Journal of English Language Teaching) Fakultas Pendidikan Bahasa & Seni Prodi Pendidikan Bahasa Inggris IKIP, 8(1), 67-73. https://doi.org/10.33394/jo-elt.v8i1.3837
Raja, R., & Nagasubramani, P. C. (2018). Impact of modern technology in education. Journal of Applied and Advanced Research, 3(1), 33-35. https://doi.org/10.21839/jaar.2018.v3iS1.165
Shaxzoda, Z. (2022). Authentic materials as the main developing tool of language skills. Web of Scientist: International Scientific Research Journal, 3(5), 1426-1429. https://doi.org/10.17605/OSF.IO/K4AXJ
Toreniyazova, Z. S., & Otegenova, G. K. (2022). Using authentic materials and realia in teaching English. Academic research in educational sciences, 3(3), 1085-1089. DOI: 10.24412/2181-1385-2022-3-1085-1089
Tran, T. Q., & Duong, T. M. (2020). Insights into Listening Comprehension Problems: A Case Study in Vietnam. PASAA: Journal of Language Teaching and Learning in Thailand, 59, 77-100. https://files.eric.ed.gov/fulltext/EJ1239999.pdf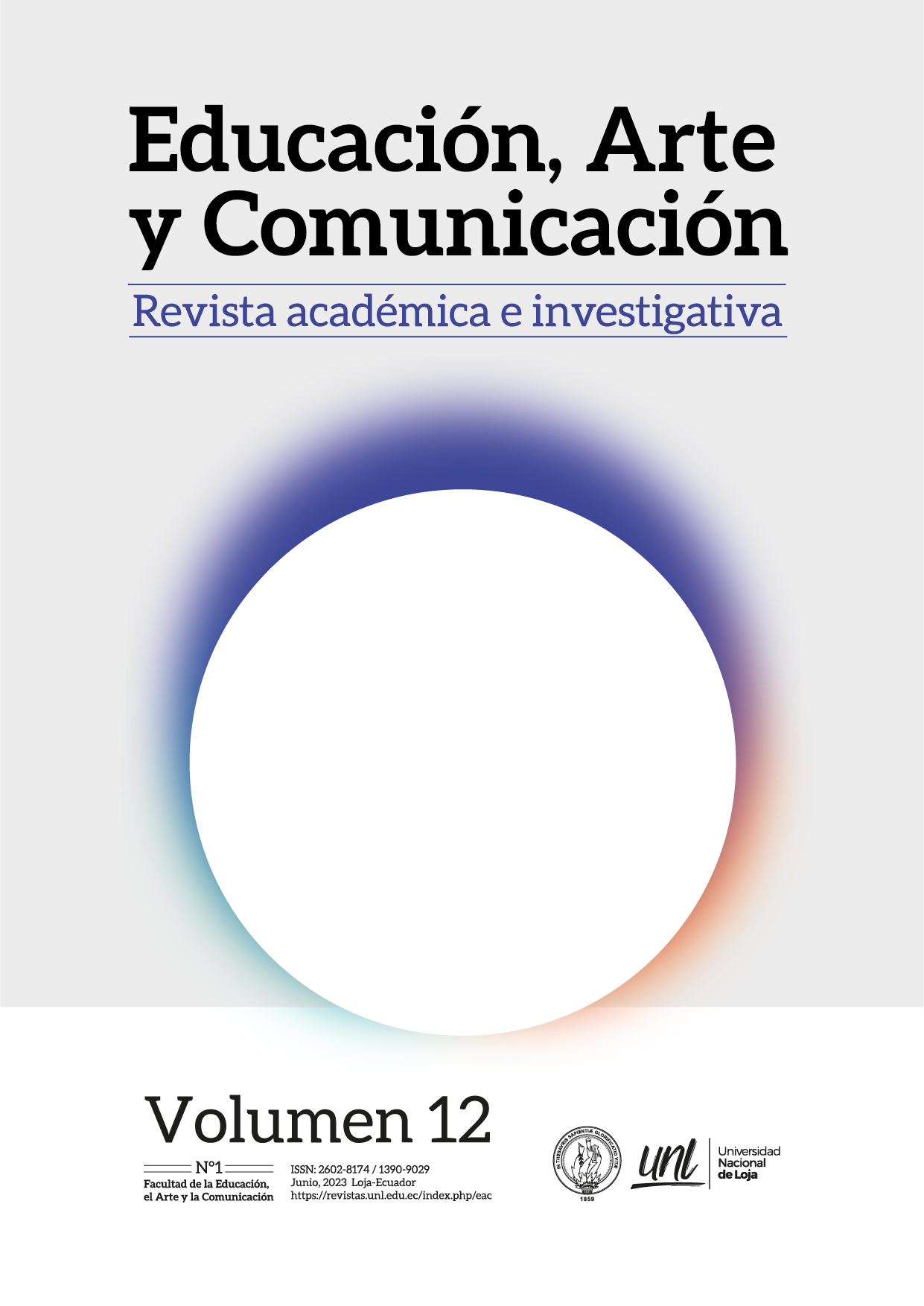 Descargas
Cómo citar
Avila Castillo, J. M., & Criollo Vargas, M. I. (2023). Students' perceptions on the benefits of authentic materials through technology in English listening comprehension. Educación, Arte, Comunicación: Revista Académica E Investigativa, 12(1), 58–67. https://doi.org/10.54753/eac.v12i1.1785
Licencia
Derechos de autor 2023 Universidad Nacional de Loja
Esta obra está bajo una licencia internacional Creative Commons Atribución-NoComercial-SinDerivadas 4.0.